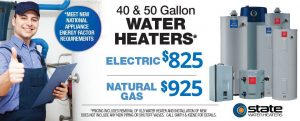 State Water Heater Special Offer Details
If you are not getting enough hot water from your current hot water heater, consider replacing it with this special offer.*  For a limited time, Smith & Keene is offering 40-gallon and 50-gallon energy efficient State water heaters for $825 electric, and $925 natural gas.  Upgrading your old hot water heater with a more energy efficient one will offer you hot water more readily at a lower cost on your energy bill.  Plus, State hot water heaters are known for their durability and longevity, equipping your home with hot water for the years to come.  Call Smith & Keene to schedule your hot water heater upgrade today.  Not only will you get our excellence service, you will have hot water year-round for a great investment!
*Special offer price includes the removal of your old water heater and the installation of the new water heater and does not include new piping or shutoff valve.