Careers
Smith & Keene is a family-owned and operated business that has served the Hampton Roads region since 1947. Our owners are second and third generations of our founders and we only employ dedicated, long-term employees with hundreds of years of combined experience.
With Smith & Keene, there is no middleman, no subcontractor. Our qualified technicians and support staff are Smith & Keene employees. Every member of our team is held to the same commitment and pursuit of excellence on which Smith & Keene was founded. Interested in joining the team? Learn more about open positions and how to apply.
Now Hiring Experienced HVAC Service Technicians!
As one of the largest HVAC contractors in Hampton Roads, Smith & Keene has positions to fill IMMEDIATELY.
Competitive Pay
Paid Vacation & Holidays
Health & Dental Insurance
Matching 401K
Apply in person at our Chesapeake office at 833 Live Oak Drive or email your application and resume to info@smithkeene.com.


HVAC New Construction Installers



Electrical New Construction Installers



Plumbing New Construction Installers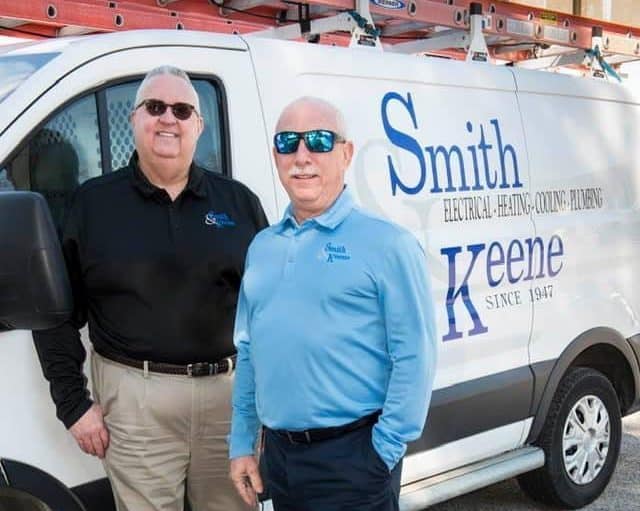 Our commitment to your comfort
Our Legacy
Over 75 Years Serving Hampton Roads
Our Team
No Subcontractors, Nearly 200 Employees
Our Track Record
A+ BBB Rating, 14,000+ Homes Serviced Annually
Our Buying Power
Your Savings - Financing & Monthly Specials
You may fill out this application using your computer or device with this fillable form, or print it out and fill it out using a pen. If you choose to fill it out on your computer, we suggest that you save the form on your local drive and open it with the free program Adobe Acrobat Reader instead of filling it out within your browser. After you complete the form, print it, sign it, scan it or take a good quality picture of it with your phone and email the completed form to info@smithkeene.com.